Helpdesk
Scale your support with our easy-to-use multi-agent ticketing system
How It's Used
UserEcho - provides a convenient interface for support agents allowing complete control and allow to perform a support from one place.

Convenient and flexible filtering system used to display topics in the order you want.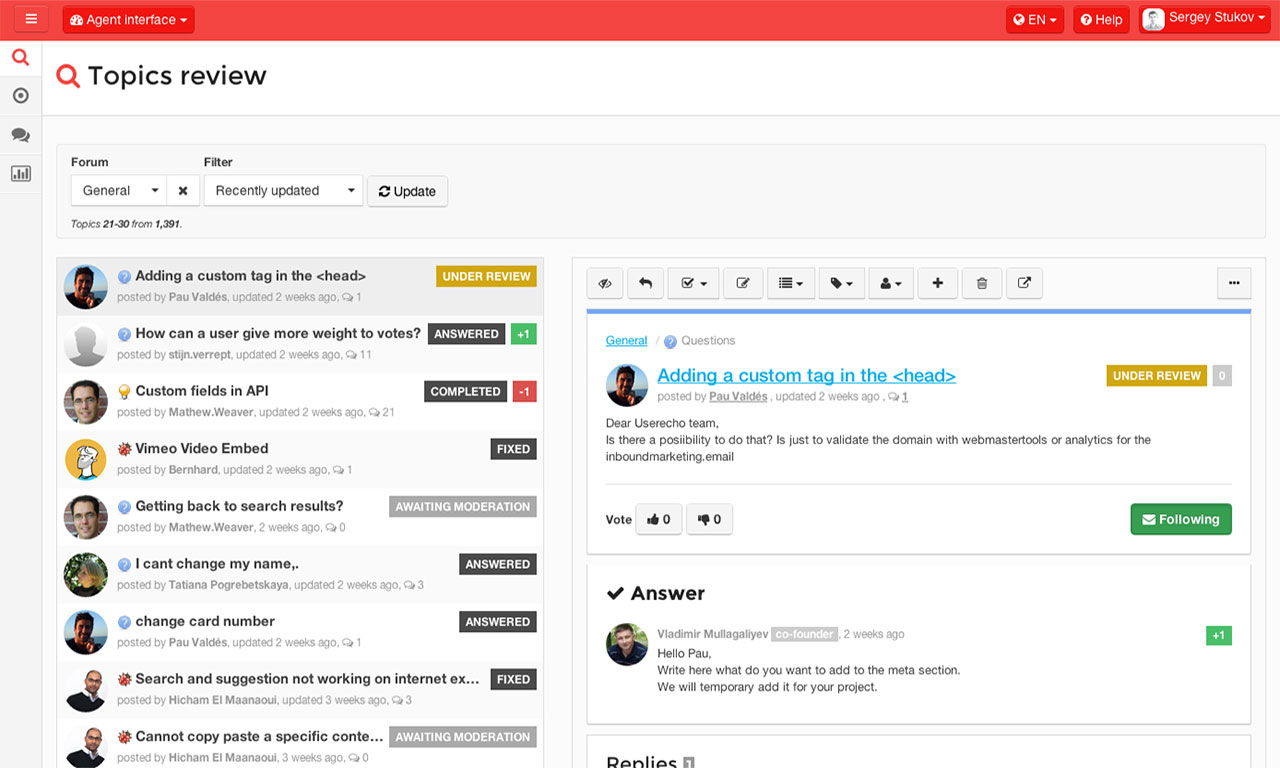 Intelligent moderation
System automatically analyzes the activity of Community and marks topics that requires attention. This allows you to not disregard any of user actvity.
Canned responses
Stop wasting time writing the same replies again and again. Ensure quick consistent responses to common questions by creating pre-formatted replies.
Working with one window
All operations can be performed without leaving the browser window, no need to open new windows, it speeds up the processing of requests from users and makes the process more convenient.
Ticket Assignments
Share the workload by assigning tickets to other agents.
Private comments
Collaborate behind the scenes with comments that only you and your team can see.
Insights about user
For each topic operators able to view extended information like type the user's browser, screen resolution, etc.
Ticket Statuses
Know where every ticket stands by marking it as Open, Pending or Closed.
File Attachments
Attach photos or documents by adding them right into the ticket.
Forwarding Emails
Forward an email from your personal inbox into UserEcho to automatically create a ticket.
Updating Tickets Via Email
Respond to email notifications from your personal inbox, and UserEcho will update the ticket
Auto Replies
Let your customer know that you've received their email with automatic replies.
Customer Satisfaction Ratings
Get feedback on your support from your customers.
I have been using the agent functions on @userecho for the last 20 mins, so far it looks 2 be the platform that every business should be using.
More than
20,000+

companies are using UserEcho

What are you waiting for?