Livechat
LiveChat helps you communicate with your visitors and convert them into your customers.
How It's Used
UserEcho enables live chat conversation with a visitor on your site. Impress customers and increase their loyalty, before they go off to another.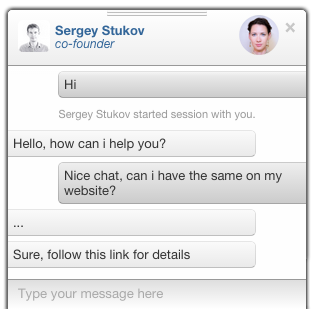 List of features
Chat transcripts
All chat history saved in the searchable archive. There is an option to subscribe and receive chat history.
Supports multiple domains
Install Chat on an unlimited number of domains.
Redirect support
Gives you the opportunity to redirect chat session to your teammate. Use redirection when you need help from a more experienced agent.
Triggers
Are automatically sent an invitation to chat to. This helps to significantly increase conversion on your website.
Supports multiple sessions simultaneously
Support agent can communicate with multiple clients simultaneously.
All chats are protected by SSL
We provide a secure connection SLL (https://) 256 bit, which will keep your data safe.
Useful analytics
Evaluate the performance of your support team, browse through the data and ideas for your business.
Support for external Jabber / XMPP clients
It\'s possible to use any chat client (iChat, Adium, Pidgin, Miranda. ..) that supports Jabber / XMPP protocol to communicate with your customers.
Delayed response
If you need more time to solve the customer's problem, you can convert any chat session to the helpdesk ticket . The user will be notified via email when it will be resolved.
Extended info about user
You will receive user data before the chat session. For example: URL page which made ​​an appeal client, location and country.
Easy to install
Just paste a few lines of code. All current clients who already setup UserEcho widget, already have chat feature, chat tab will auto appear if you open web (chat) admin interface or sign in in external IM client with provided credentials.
Universal widget
Widget support feedback collection and live chat in one place. Chat tab will appear only if at least one of the support agent available online.
More than
20,000+

companies are using UserEcho

What are you waiting for?